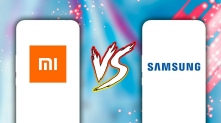 Samsung vs Redmi: A Comparison
Mobile phones are one of the few technologies that have undergone tremendous changes and growth over the past decades. From the first mobile phone which was only intended for making calls to the latest smartphones that lets us take first quality pictures to keep us entertained and accompany us to work, the number of changes mobile phones had and the role they played in our daily lives is irreplaceable.
While considering buying a new mobile phone, there are quite a few things we check as a buyer and user. And when it comes to buying the latest models and affordable smartphones, though we compare a lot of brands, Samsung vs Redmi will decide the final verdict. Both the brands have excelled in terms of innovation and technology in almost every aspect of their respective smartphones. However, in certain features, each has the upper hand in its own terms.
Here, let's compare and contrast Samsung vs Redmi and help you decide whether it's Samsung or Redmi you have to choose in mobile phones under 20000 or even more.
Samsung or Redmi? Which to Choose?
This is one of the many questions we ask ourselves as a buyer. While Samsung is a highly established and popular brand, Xiaomi Redmi is a new bee that has excelled and exceeded our expectations as a smartphone manufacturer. Following are certain models from both brands that come under budget smartphones. Find the best among Samsung Phones Under 10000 and Redmi Phones Under 10000 curated here for your better understanding and convenience.
Samsung Phones Under 10000
Samsung is a Korean brand that has manufactured hundreds of smartphone and gadget models at both premium and budget levels. Whether it is the looks and finesse of the mobiles or the smooth and fast functioning, the brand has always delivered. Listed below are some of the best Samsung phones under 10000 for an affordable buy.
Samsung Galaxy M02
Samsung Galaxy M02s
Samsung Galaxy A10
Samsung Galaxy A10s
Samsung Galaxy M01
Samsung Galaxy J2
All these Samsung mobile models come under 10000, with cameras varying from 5MP to 13MP, and with double and triple cameras. Also, battery variations are available from 3500 mAh to 5000mAh along with 2 to 4GB RAMs.
Redmi Phones Under 10000
Xiaomi is a smartphone, tablet, and other electronic gadgets manufacturing company that is privately owned. Redmi is one of the company's most popular and loved brands when it comes to budget smartphones. Redmi over a period of time has manufactured and sealed various models that are super budget-friendly at prices as low as 6000 with almost all the best features of a smartphone. Below mentioned are a few Redmi mobile phones under 10000.
Redmi 6A
Redmi 7A
Redmi 8A
Redmi 9A
Redmi 6
Redmi 7
Redmi 9i
Redmi Y2
All these mobile phones from Redmi are loved for their high performance and battery life. Though both Samsung and Redmi are perfect examples of budget smartphones, it's difficult to decide which one is Samsung vs Redmi. However, whether it's Samsung or Redmi, they deliver the best mobile phones under 20000.