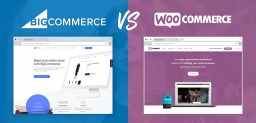 The Comparison Between BigCommerce vs. WooCommerce – Which One Is Better?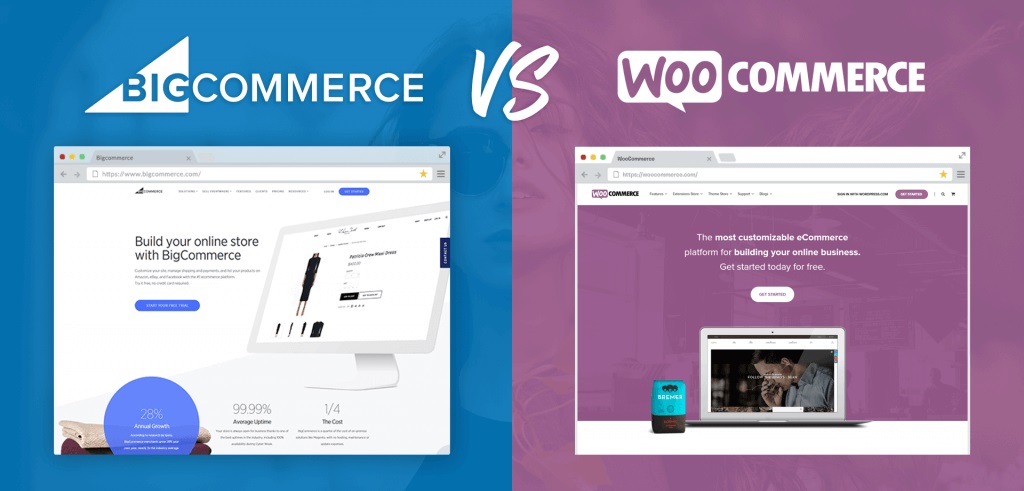 ECommerce platforms are now the go-to purchasing options for a large portion of consumers. Resultantly, multiple eCommerce websites are popping up here and there in the world. Every business now wants to make it to the eCommerce platform. If you are also willing to get into the eCommerce platform, there are two options for you to create your eCommerce platform; BigCommerce & WooCommerce. So, the competition between these two platforms is between a wild boar and a raging bull.
While both of these platforms have their pros and cons, they are equally popular and helpful. But the audience looks for comparison and prediction about which one outperforms the other. So here is a solution to their queries. In this article, I will compare these two eCommerce platforms and discuss their differences.
What Is BigCommerce
BigCommerce is a hosted eCommerce solution for business owners who are trying to set up their online store. BigCommerce was set up in 2009, and it allows the users to set up their eCommerce platform for a minimum monthly payment for maintenance. BigCommerce allows users to customize their website as per their needs.
Pros:
Easy To Set Up & Utilize: BigCommerce is a hosted platform, so it does not require hosting and management by the platform crater. As a result, BigCommerce is easy to use.
Numerous Built-in Features: There are multiple built-in features. These features are some of the high-quality ones and do not require extra fees. The quality of the components depends upon the plan you choose to purchase.
Admirable Customers' Support: BigCommerce offers excellent customer service for the monthly subscriptions that you make. They offer the service via phone, live chat, and email.
Cons:
Annual Sales Limit: Bigcommerce sets a limit on your yearly sales. To increase that limit, you have to pay for a higher plan.
Less Flexibility In Design: BigCommerce does offer a significant number of free and paid themes. But the themes are not diverse. Almost all the themes look identical, and they are also not customizable using HTML and CSS.
What IS WooCommerce?
Launched in 2011, WooCommerce is a WordPress plugin and an open-source platform to create online stores. WooCommerce is a fully customizable eCommerce platform. You can turn your existing WordPress website into your desired eCommerce platform.
Pros:
Maximum Design Opportunity: If you know WordPress, HTML, or CSS editing, then WooCommerce can open endless opportunities for designing your eCommerce website. The themes on WooCommerce are highly customizable.
Huge 3rd party Plugin Collection: WordPress is the most extensive content management system. Since WooCommerce runs on WordPress, there are no bounds to the third-party plugins that the users will get.
Cons:
Limited Support: WooCommerce has a vast number of users. But you may not receive help as instantly as you require. For assistance, you have to look around the community sites and documentation sites independently.
Technical Knowledge Is Necessary: While anyone can run an online store on BigCommerce, WooCommerce, you will need knowledge about WordPress, HTML, CSS.
BigCommerce Vs. WooCommerce
| | BigCommerce | WooCommerce |
| --- | --- | --- |
| Expenses | BigCommerce is a hosted eCommerce platform. There are monthly and annual plans for BigCommerce that the users need to purchase from. | WooCommerce is completely free. You just have to install and use it. But there are other expenses like hosting service and domain registration. |
| User Opinion | There are mixed opinions about BigCommerce. Most users love it since it is easy to use and does not require any technical knowledge. But some users don't like it due to the lack of customization and price. | WooCommerce is user-friendly, and the users love the boundless options for customization and third-party plugin. |
| Customization | There are many free and paid themes available. But most of them are similar-looking, and there is no room for customization. | Thousands of both paid and free themes are on WooCommerce. Users well-versed in HTML and CSS customization have endless opportunities to customize their websites. |
| Inventory Management | BigCommerce has an inventory management system built within. | It can manage the basic tasks but requires additional plugins for improvement. |
| Payment Options | More than 65 payment options are available. | 100+ payment getaways are there. |
Conclusion:
As you can see, both BigCommerce & WooCommerce are great for users. If you want a hassle-free platform and can pay some monthly fees, BigCommerce is a great option. It also provides good security and user support, so it will be an easy ride. But if you are tech-savvy and love to play around with cool themes and designs, you are more of a WooCommerce guy. There are endless features, designs, and plugins available, so you won't be bored.
Author Bio:
Ani Johnson is a passionate blogger. She loves to share her thoughts, ideas, and experiences with the world through blogging. Ani Johnson is associated with Gossipment, TheParentsmagazine, ThePetsMagazine, TheLegalGuides, EssayWritingGuides, TheSportsMag.